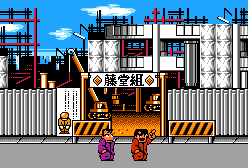 This article or section is a stub.
You can help the Kunio-kun Wiki by expanding it.

Yoshino (吉野, よしの Yoshino), full name Yoshino Mitsuaki (吉野光明, よしの みつあき Yoshino Mitsuaki) is a sophomore student of Hanazono High School who first appeared in Downtown Nekketsu Kōshinkyoku: Soreyuke Daiundōkai. In Crash 'n the Boys: Street Challenge he is named Randall "Dove" Duvall and is a member of the Washington High School team.