William (うぃりあむ?) is the captain of the North American team in the Famicom version of Nekketsu Kōkō Dodgeball Bu. He is a palette swap of Heilman.
In Super Dodge Ball, the Western localization of Nekketsu Kōkō Dodgeball Bu, William's team is replaced with Japan and he is renamed Fuji.
From Kunio-kun no Dodgeball da yo Zen'in Shūgō onward, William is depicted as a black man.
In Ore wa Otoko Da! Kunio Kun, he is depicted as a bishōnen character.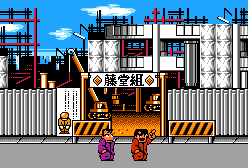 This article or section is a stub.
You can help the Kunio-kun Wiki by expanding it.