Target; Renegade is a scrolling (certain versions are flip-screen) beat 'em up computer game released on the Amstrad CPC, Commodore 64 and ZX Spectrum in the late eighties by Ocean Software (under their Imagine label). The game is a sequel to Renegade, but this game and its computer-only sequel Renegade III: The Final Chapter, are not related to the Kunio-kun series.
Taito released a version for the Nintendo Entertainment System.
Development
[
]
Story
[
]
Gameplay
[
]
Characters
[
]
Trivia
[
]
Gallery
[
]
External links
[
]
References
[
]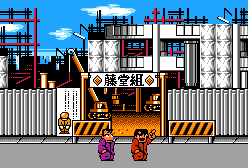 This article or section is a stub.
You can help the Kunio-kun Wiki by expanding it.