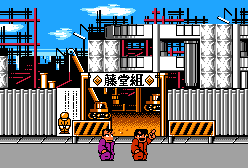 This article or section is a stub.
You can help the Kunio-kun Wiki by expanding it.
Taira (平, たいら Taira) full name Taira Kiyofumi (平清文, たいら きよふみ Taira Kiyofumi) is one of the bosses in Downtown Nekketsu Monogatari, a student of Reihō Academy and a member of the "Shitennō" (四天王 "Four Heavenly Kings").
Appearances
Taira debuts as a boss in this game. He is fought in the first area of Midori Town, the area next to the one where Mochizuki is fought.
In River City Ransom and Street Gangs, Taira is renamed Mojo.
Community content is available under
CC-BY-SA
unless otherwise noted.