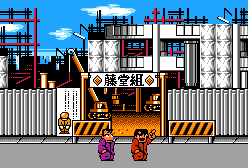 This article or section is a stub.
You can help the Kunio-kun Wiki by expanding it.

Sonokawa (園川, そのかわ Sonokawa) full name Sonokawa Kaoru (園川薫, そのかわ かおる Sonokawa Kaoru) is a 2nd Year student of Senridai High School and the leader of the "Senridai Bombers". He is recurring character in the Downtown Nekketsu series.
Appearances
[
]
Sonokawa is one of the Senridai High School enemies that appear in the game.
In River City Ransom and Street Gangs, Sonokawa is renamed Harry, while Senridai High School is changed to the Generic Dudes.
In this game, Sonokawa plays the role of Tsurumatsu, Kunimasa's brother and faithful companion.
Similarly to Downtown Nekketsu Monogatari, players start the game with the option to play as Kunimasa or Tsurumatsu. If the game is played in the single player mode, it is possible to play as either, Kunimasa or Tsurumatsu. The CPU will take control of the character that was not selected. Tsurumatsu and Kunimasa have the same stats at the beginning of the game, but Tsurumatsu starts with two techniques: the Mach Twist and the Big Bang.
Sonokawa appears as an enemy in the game, much like the original. However, if the game is being player with Kunio on his own, it is possible to recruit Sonokawa and all of the Senridai Bombers in the first area of Hanazono Town. If Kunio agrees to let them join him, Sonokawa joins permanently, while the remaining members of the Senridai Bombers take up the remaining slots.
In River City Ransom EX, Sonokawa is renamed Phil instead of Harry. The character that is recruited is named Conan, who acts as the leader of the Generic Dudes, just like Sonokawa in the Japenese version of the game.
Calvin, one of the bosses in the game, mentions that Conan is his father after he is defeated. Conan himself does not make an appearance in the game.
Trivia
[
]
Sonokawa is modeled after a former employee of Technōs Japan.
Gallery
[
]