Character Information



Fan art of Sawaguchi by riveroxx310

Name:
Yasuo Sawaguchi
Name (kanji/kana):
沢口 靖夫 (Sawaguchi Yasuo)
さわぐち やすお (Sawaguchi Yasuo)
Affiliation(s)
Hakutaka Industrial High School (The Mob in River City Ransom)
School Union
Year
Sophomore
Birthday
April 17
Blood Type
O
Localized Name(s)
Moose (River City Ransom)
Yasuo Sawaguchi (沢口靖夫 Sawaguchi Yasuo, さわぐち やすお Sawaguchi Yasuo) is a fictional character and the No. 2 man of Hakutaka Industrial High School in the Kunio-kun series. Sawaguchi's first appearance is in Downtown Nekketsu Monogatari, where he is the first boss that players face.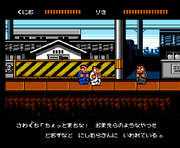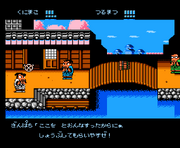 Localized version
In River City Ransom, Sawaguchi was name Moose.
Trivia
Community content is available under
CC-BY-SA
unless otherwise noted.