Sawaguchi (沢口, さわぐち?), full name Sawaguchi Yasuo (沢口靖夫, さわぐち やすお?), is the No. 2 delinquent of Hakutaka Industrial High School and a follower of Nishimura in the Kunio-kun franchise. Sawaguchi's first appearance is in Downtown Nekketsu Monogatari, where he is the first boss that players may face. He is described as not being very strong, but he has guts.
Sawaguchi appears as a boss in the game. In this version of the game, it is optional to face him, but later games make it mandatory to face Sawaguchi.
In River City Ransom and Street Gangs, Sawaguchi is renamed Moose. This name is also used in River City Ransom EX and River City Ransom: Underground (he is only mentioned in the latter game, and does not make an appearance).
Sawaguchi is a member of the School Union. In Battle Royal, he has no special moves.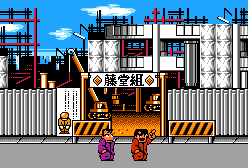 This article or section is a stub.
You can help the Kunio-kun Wiki by expanding it.
Community content is available under
CC-BY-SA
unless otherwise noted.