Saori (砂織, さおり?), full name Gōda Saori (豪田砂織, ごうだ さおり?), is Gōda's younger sister. The character existed as early as Downtown Nekketsu Monogatari, and was mentioned in Downtown Nekketsu Baseball Monogatari: Yakyū de Shōbu da! Kunio-kun, but made her first appearance in the series in Downtown Nekketsu Monogatari EX.
In her appearance in the game, she is kidnapped by the Dragon Twins to force Gōda to serve as the gatekeeper for Reihō Academy. If Kunio and Riki run into Kuniko, she will rescue Saori. Knowing this, Gōda will join the player after he is defeated if their reputation is also high enough. If his help is rejected, he will proceed to meet the Dragon Twins on his own personally, and the player can assist him in defeating them. After the Dragon Twins are defeated, Gōda will thank Kunio and Riki for their help and for rescuing his sister.
Gallery
[
]
Trivia
[
]
Saori is the moe character of the Downtown Nekketsu series.
Saori wears glasses and uses contacts simultaneously.
In River City Ransom EX, Saori is renamed Abby.
Although River City Ransom: Underground references characters from River City Ransom EX (such as Conan), Ivan in the game is loyal to Slick. This likely implies that Abby does not exist in the continuity of River City Ransom: Underground, or that Conatus Creative was unaware of her existence and relation to Ivan.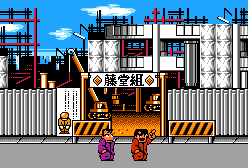 This article or section is a stub.
You can help the Kunio-kun Wiki by expanding it.