Ryūji (竜二, りゅうじ?), full name Hattori Ryūji (服部竜二, はっとり りゅうじ?), is one of the bosses from Downtown Nekketsu Monogatari and the younger of the Dragon Twins.
Along with his brother Ryūichi, he is one of the few characters in the Downtown Nekketsu series who is addressed by his given name.
In previous games, Ryūji was loosely based on Jimmy Lee, one of the main protagonists of the Double Dragon series of beat 'em up games, which in turn was directly derived from the Kunio-kun series. The iconic "Double Dragon" theme even plays whenever he and his twin brother, Ryūichi, appear. however, Ryūji is now based on Billy Lee. However, in Stay Cool, Kobayashi-san!: A River City Ransom Story, Ryūji is once again inspired in Jimmy Lee. This is intentional, as Sekimoto is the game's director (Jimmy has blonde hair in all of the Double Dragon games directed by Sekimoto) but in the game he is described as having a hot-headed personality (which fits with Jimmy in Rival Showdown, but is a contrast to Jimmy's personality in Double Dragon Advance and Double Dragon IV).
In River City: Tokyo Rumble and River City: Rival Showdown, Ryūji retains the name Andy from River City Ransom. However, games released by H2 Interactive (~All Stars Special~ and Battle Royal Special) use his original Japanese name. Stay Cool, Kobayashi-san!: A River City Ransom Story also uses his original name.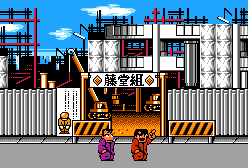 This article or section is a stub.
You can help the Kunio-kun Wiki by expanding it.
Community content is available under
CC-BY-SA
unless otherwise noted.