River City Super Sports Challenge, originally released in Japan as Kunio-kun no Chou Nekketsu! Daiundoukai (くにおくんの超熱血! 大運動会?, lit."Super Nekketsu of Kunio-kun! Great Athletic Meet") is a sports game released for the Nintendo DS developed by Million Co. Ltd. and Arc System Works, and published by Arc System Works in Japan on February 4, 2010, and in North America by Aksys Games on October 12, 2010. It is the first Kunio-kun game feature 3D graphics.
Plot
[
]
There is a large, high-tech company based in the U.S.
It's a blue-chip enterprise that develops nursing robots.
But, it also develops military robots behind closed doors, and is making an enormous forture off of that.
The name of the enterprise is the "Tobioka Conglomerate".
While Michael Tobioka, the son of the founder of the Tobioka Conglomerate was collecting information from the internet as his usual routine, he coincidentally found out about a particular guy.
Michael: Huh? This is......Oh-wow, this Japanese dude is sooo cool!
Michael Tobioka decided to challenge him for the purpose of further developing his military robots.
Michael: (Let me see how much of a man you are.) *Grin*
Later, a letter of challenge for the Super Sports Challenge was delivered to Kunio.
Kunio: Fine. I happened to be bored out of my lately. Bring it on!
Characters
[
]
Teams

[

]
Nekketsu High School
Hanazono High School

Reihou Academy

Interschool Union (Athletics in English version)
Hattori Academy


Yoritsune

Toyota
Yotsumine
Kageshita
Raimon
Domon

Combat Team (Fighting Team in English version)

Daisetsuzan (Avalanche in English version)

Tobiyama

Tarutani
Shiroto
Kishitani
Kashiwagi
Katagiri

World Dodgeball (Dodge Master in English version)


Lao Chen
Njomo
Francios
Heinrich
Lorenzo

Yurigaoka

Girls


Yasuko
Yukie
Yuka
Akemi
Mika

Akiba Academy

Takaoka

Kawanaka
Fukuma
Motowaki
Kamikawa

Funkies (Funky's in English version)


Kazutaka

Kazuo
Masahiro
Hideaki
Kenta
Ichirou

Oklahoma High School

Tobioka CC

FJMark2
No. RK300-1
No. RK300-2
No. RK300-3
No. RK300-4
No. RK300-5
Others

[

]
External links
[
]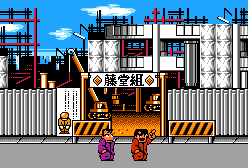 This article or section is a stub.
You can help the Kunio-kun Wiki by expanding it.