Game Information

Japanese title screen
Name:
River City Melee: Battle Royal Special
Name (kanji/kana):
Downtown Rantō Kōshinkyoku: Kachinuki Kakutō SP
JP Translation:
"Downtown Brawl March: Win Through Fighting SP"
Developer(s):
Arc System Works
Publisher(s):
Arc System Works (JP)

H2 Interactive Co., Ltd (EN)

Release Date(s)
December 26, 2016 (JP/PS4)

March 28, 2017 (US, EU/PS4) September 14, 2017 (Steam)
River City Melee: Battle Royal Special, originally released in Japan as Downtown Rantō Kōshinkyoku: Kachinuki Kakutō SP (ダウンタウン乱闘行進曲 かちぬきかくとうSP, "Downtown Brawl March: Win Through Fighting SP") is essentially a modification of River City Super Sports Challenge: All Stars Special, altered to center fully around fighting, with multiple new arenas and new teams added, in addition to tweaked move sets and a power meter that can charge special moves up. It also has a new story mode for each team, although many events are the same across them. So far, it is only available for PlayStation 4 and Steam.
Story
Gameplay
Main article: River City Super Sports Challenge: All Stars Special
During Single Play, the player will face off against three different teams in three matches. In the fourth match, the Tiger Brothers will challenge the player's team. The player will then fight a single opponent from Wu Wonfu, the boss team, before facing off against the final boss and the remaining Wu Wonfu members.
Exceptions to this include Outlaw, Team Misuzu, Historical Drama and Magical Story teams. The Outlaw team will fight Hanazono High School in place of the Tiger Brothers, then Misuzu on her own before facing Wu Wonfu. Misuzu's team will face the Dodgeball Club instead of the Tiger Brothers.
Changes from ~All Stars Special~
The game now includes a help screen showing the in-game controls on a game pad and keyboard. It can be accessed at the title screen and the pause menu. Players can also configure the in-game buttons in the pause menu and in the player and team select screen. It is possible to toggle an option to allow the player to jump by pressing both the punch and kick buttons simultaneously like in previous games.
The player can now see the stats of each character on a team with the press of a button. This is done in the team select screen, in the pause menu and the character select screen before each fight. Players can also see each of the character's techniques and how to perform them.
The game has a Rage Meter, which fills up when the player takes damage. Once full, the techniques of each character are upgraded. Kunio's Mach Kick will change to Mach Kick II, which is the same much but he ends it with an upward kick that sends opponents flying, for example. During Rage Mode, the character's overall stats will also be enhanced.
The game now has three throws, which are performed by grabbing an opponent from the ground and while they are being carried, pressing a direction and the kick button. These are the Giant Swing, the Power Bomb and the Upper Throw, though some characters have unique throws that replace these moves.
Characters have new and different move sets from ~All Stars Special~. Moves from non-fighting events have been removed in favor of new moves that fit better for combat.
Stages
The game includes the original Battle Royal stage from the previous game, including the two variations (bigger area with no way to throw opponents out and a much smaller stage). The game also features a new variation of the Battle Royal stage, though players cannot toss their opponents out of bounds the ground will gradually be destroyed. The open space will act as a stage hazard. The game has three completely new stages as well.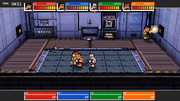 Teams
All teams are playable from the start.
Nekketsu High School fights Sumi of Wu Wonfu on his own first. Wu Wonfu is led by Yuuji Munakata.
Hanazono High School fights Miyagasaki of Wu Wonfu first. Wu Wonfu is led by Yuuji Munakata.
School Union
Shitennō
Kobayashi
Kinoshita
Taira
Mochizuki
Aoki
Tomiyama
Reihou Former Student Council
Onizuka
Matsudo
Nakamura
Koga
Ichikawa
Mutou
Reihou Sports Club
Morisawa
Gotou
Kunitachi
Irie
Kawada
Senridai High School
Sonokawa
Mori
Ito
Ogura
Sakagami
Tsuchida
Kagemura Academy
Kamijo
Yamamoto
Mochida
Kondo
Onishi
Kai
Meian High School
Kato
Takahashi
Sasaki
Hayashi
Kimura
Yamazaki
Shiguma High School
Saji
Yukizaki
Hoshina
Yusa
Souma
Kazato
Osorezan Commercial High School
Ugajin
Tamayama
Enma
Fuke
Untani
Kozuma
Hattori Academy
Yoritsune
Mitsusada
Kuwatari
Akaboshi
Mitsu
Tobita
Chinatsu
Yuki
Megumi
Mami
Atsuko
Kazuyo
Akiba College
Takaoka
Kawanaka
Fukuma
Motowaki
Kamikawa
Chitose
Outlaw
Katsuji
Tetsu
Gen
Lee
Yoshihiro
World Team
Jonny
Raphael
Raochen
Billy
Jimmy
Japan Team
Toraichi
Toraji
Tsuge
Tobiyama
Ken
Tobioka CC
Cheerleader
Lion Association
Shishio
Ginjishi
Ukyo
Sakyo
Majishi
Benijishi
Nekketsu Dodgeball Club
Dodgeball Kunio
Dodgeball Hiroshi
Koji
Ichiro
Shinichi
Mituhiro
Historical Drama
Kunimasa
Tsurumatsu
Rikigoro
Bunzo
Jukichi
Asajiro
Nekketsu Magical Story
Kounie
Ricky
Goder
Go Dai
Sanju
Ijo
The boss team featured in the game's story mode was initially unplayable. The game was updated in January 25, 2019 allowing players to use the bosses in Free Play. They have been split into two teams: Wu Wonfu, which includes the new characters, and Mastermind Team, which has Yuuji Munakata as captain and Matsudo in his school uniform as vice-captain, and removes Tsubaki and Sumi.
The members featured on the team depend on the team being used in Single Play. Before facing the team proper, the player will fight a single member of the team (predetermined depending on the team being used).
Wu Wonfu (Single Play)
Munakata / Matsudo / Kunio
Tsubaki
Miyakoda
Shimokita
Miyagasaki
Naka
Sumi
Wu Wonfu (Free Play)
Tsubaki
Miyakoda
Shimokita
Miyagasaki
Naka
Sumi
Mastermind Team
Munakata
Matsudo
Miyakoda
Shimokita
Miyagasaki
Naka
Music
The game has the same tracks from the previous game, but also includes some new ones, some of which are arrangements from previous games. Some of these arrangements are meant to complement the new stages in the game. Some of the music goes unused in the PC version of the game, just like in ~All Stars Special~:
Conveyor Belt Factory
Disappear Without A Trace: Ending theme.
Fight over!: Theme used when knocking down the final opponent.
Golden Cheer♪
Mysterious Gang: Theme used when the final boss team is introduced.
Nekketsu March Neo: New arrangement of Passionate Fight.
Rantou March!: Title screen music for the game.
Run together!: Staff roll theme.
Ultra Nekketsu Super Shoot!: Arrangement of the title screen theme of Nekketsu Kōkō Dodgeball-bu: Soccer Hen.
Yokohama Funky Soul: Arrangement of Yokohama Funky!.
Gallery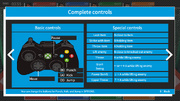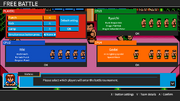 Trivia
Many different versions of Kunio are available in this game, since several of the bonus teams are from spin-offs where he appears slightly different and has game-specific moves.
The Dodgeball Team's instance of the above is literally named, "Dodgeball Kunio".
The three-hit combo Hasebe used in a cutscene to dispatch a trio of thugs in ~All Stars Special~, has been made into an actual move in this game, which named it "Body Check".
External links
References
Community content is available under
CC-BY-SA
unless otherwise noted.