Riki Densetsu (りき伝説 (りきでんせつ?, which roughly translates to "Legend of Riki") is a role-playing beat 'em up game developed by Aplus Co., Ltd. and published by Arc System Works. It was released on December 12, 2012 on the Nintendo 3DS eShop. It is a prequel to Nekketsu Kōha Kunio-kun Special (a remake of Nekketsu Kōha Kunio-kun, the first game in the Kunio-kun franchise) with Riki in the role of protagonist before he meets Kunio for the first time. It is a spin-off game in the Kunio-kun franchise.
Development
[
]
Hisataka Ikoma was in charge of designing each character (he worked on the art and graphics of River City: Tokyo Rumble). Some members of the development team and real people were used as motifs for some of the new characters in the game. Kōhei Tomita was the game's planner (he would later work in this same position for River City: Tokyo Rumble and River City Super Sports Challenge: All Stars Special).[1]
The origin of Riki's name comes from a Yakuza who roamed the area near the hometown of Yoshihisa Kishimoto (who created the original game and the character). His reasoning for naming Riki after this dangerous person was that Kunio was a strong character and needed an equally strong rival that could face him.[2]
Plot
[
]
Riki, a third-year student in Hanazono High School, is a prospective soccer player and a member of the sports' club. However, the cheering squad of the opposing school in the upcoming prefecture tournament attacks and injures the players of the club. Angered, Riki attacks and beats up the cheering squad, but this draws the attention of the police, who take custody of Riki and take him to the nearest station. The following day at the principal's office, Riki is sentenced to a half year suspension and the soccer club is disbanded.
This incident is the catalyst for Riki's fall from grace. Shortly, powerful enemies begin attacking Hanazono High School one after another, with the intent of taking control of the school. It is here that Riki builds his legend, with his deadly "Mach Punch".
Gameplay
[
]
The game has no mini-games like in Nekketsu Kōha Kunio-kun Special, but the item drop rate has increased.
Characters
[
]
Sakata
[
]
Okada
[
]
Megumi
[
]
Trivia
[
]
Gallery
[
]
External links
[
]
References
[
]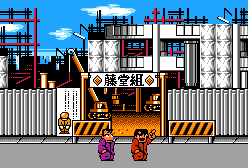 This article or section is a stub.
You can help the Kunio-kun Wiki by expanding it.