Ore wa Otoko Da! Kunio Kun (おれは男だ! くにおくん?) is a gag manga illustrated by Kosaku Anakubo. It ran from 1991 to 1996 and was serialized in the monthly anthology CoroCoro Comic, lasting 11 volumes. It centers around Kunio, who is depicted as a strong but lazy delinquent who defends people that cannot defend by themselves. Wacky antics abound when he encounters different rivals who challenge him in different ways.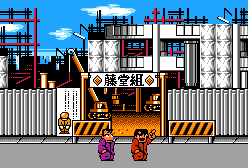 This article or section is a stub.
You can help the Kunio-kun Wiki by expanding it.