Onizuka (鬼塚, おにづか?), full name Onizuka Takashi (鬼塚崇, おにづか たかし?), is the former Student Council President of Reihō Academy (he was succeeded by Yamada).
Appearances
[
]
Onizuka's debut game, he is the first boss found inside of Reihō Academy.
In River City Ransom and Street Gangs, Onizuka is renamed Otis.
Onizuka has this strange aura about him that reeks of evil, but in truth he and his scary face hides a gentle and genuinely caring personality. He takes great pride in keeping with sports conduct and berates at anyone who forgets to take off the shoes before entering the gym.
Onizuka makes an appearance in this game, this time as a clerk for Pay Lots, a convenience store located in Downtown. True to his description; he has an imposing look, but he speaks in a gentle, monotonic voice.
Trivia
[
]
Gallery
[
]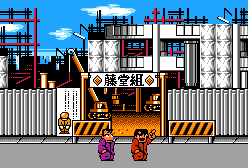 This article or section is a stub.
You can help the Kunio-kun Wiki by expanding it.