Nijiiro Dodge Ball Otome-tachi no seishun (虹色ドッジボール 乙女たちの青春?, "Rainbow Dodgeball Maidens Youth") is a dodge ball sports game developed by Million Co. Ltd. and published by Atlus for the Sony PlayStation. Together they had released Super Dodge Ball Advance the previous year. The game combines the gameplay of that game with growth sim elements. Just like Super Dodge Ball Advance, the game has no Kunio-kun characters.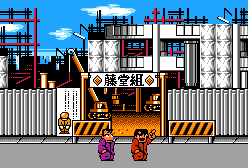 This article or section is a stub.
You can help the Kunio-kun Wiki by expanding it.