Nekketsu Taisen Kunio-kun X (熱血対戦くにおくんx Hot-Blooded Battle Kunio-kun X) is a tower defense game developed by Arithmetic Co., Ltd for iOS and Android. The game was previously called Nekketsu Kōha Kunio-kun TD (熱血対戦くにおくんTD Hot-Blooded Tough Guy Kunio TD).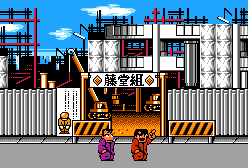 This article or section is a stub.
You can help the Kunio-kun Wiki by expanding it.