Nekketsu Kōha Kunio-kun Special (熱血硬派くにおくん すぺしゃる?, lit. "Hot-Blooded Tough Guy Kunio Special") is a role-playing beat 'em up game for the Nintendo 3DS. It is a remake of Nekketsu Kōha Kunio-kun, celebrating the 25th anniversary of the Kunio-kun series.
Development
[
]
Story
[
]
Gameplay
[
]
Modes
[
]
The game has been expanded from its original form to feature much more content. Here are the modes it offers.
Arcade Mode
[
]
This is essentially the normal experience from the original version of the game, except with chibified sprites.
Story Mode
[
]
This is the same scenario as Arcade Mode, but with expanded depth. There are simple cutscenes, dialogue, RPG elements, more exploration, and apparently a few minigames, such as one involving batting cages.
Battle Royal
[
]
Similar to Nekketsu Kakutō Densetsu, this mode involves four characters fighting each other in an arena. Apparently a download feature allows it to be played with only one copy of the game.
Mission Mode
[
]
This is an event match. The player is presented with various scenarios. Some of them are based on other Kunio games of the past, such as Dodgeball or Soccer.
Gallery Mode
[
]
This allows the player to browse through a collection of Kunio art produced over the past 25 years.
Sequel
[
]
Main article: Riki Densetsu
Main article: River City: Tokyo Rumble
Gallery
[
]
Trivia
[
]
External Links
[
]
References
[
]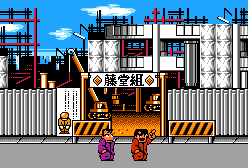 This article or section is a stub.
You can help the Kunio-kun Wiki by expanding it.