This article is about the video game series. For the video game, see Nekketsu Kōha Kunio-kun. For other uses, see Nekketsu Kōha Kunio-kun (disambiguation).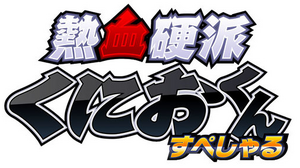 Nekketsu Kōha Kunio-kun (熱血硬派くにおくん?, roughly translates to "Hot-Blooded Tough Guy Kunio") is a series of beat 'em up video games originally developed by Technōs Japan. The first game in the series was released for arcades in 1986 (it was ported to the Famicom a year later), the creator and director of the game was Yoshihisa Kishimoto. After the game's success, Kishimoto was mandated to create a sequel that would allow two players to play simultaneously. This sequel became Double Dragon. Kishimoto would then be busy working on The Combatribes and other games in the Double Dragon series, a second studio at Technōs Japan in Tokyo would continue development of new Kunio-kun games, while a new studio in Niigata would create a separate series of Kunio-kun games as well (mostly sports games).
Nekketsu Kōha Kunio-kun: Bangai Rantō Hen acts as a direct sequel to Nekketsu Kōha Kunio-kun and was released for the Game Boy. Although it has the graphical style and locations from the Downtown Nekketsu series, it shares the serious themes of violence and revenge that Kishimoto's Kunio-kun games are known for.
Kishimoto returned to the Kunio-kun franchise with Shodai Nekketsu Kōha Kunio-kun, another beat 'em up for the Super Famicom with role-playing elements similar to Downtown Nekketsu Monogatari (directed and designed by Hiroyuki Sekimoto and Mitsuhiro Yoshida). He would later write the scenario and direct Shin Nekketsu Kōha: Kunio-tachi no Banka, also for the Super Famicom. Both of these games act as sequels to the original Nekketsu Kōha Kunio-kun. Kishimoto had written a draft for a sequel to Kunio-tachi no Banka for the PlayStation: Nekketsu Kōha Kunio-kun: Kowloon no Tsume, but the game was never developed.
Super Dodge Ball for the Neo Geo, the last game released by Technōs Japan in North America before their bankruptcy, uses characters from the Nekketsu Kōha Kunio-kun and is thus often associated with the series.
Kishimoto would return to the Kunio-kun franchise (under his new company, Plophet) with Nekketsu Kōha Kunio-kun Special, a game which acts as a remake and reboot of the original arcade and Famicom game. He followed this game with a prequel, Riki Densetsu, focusing on Kunio's rival Riki. These games use the graphical style of Downtown Nekketsu Monogatari.
Kunio-kun Special received a sequel, Nekketsu Kōha Kunio-Kun SP: Rantō Kyōsōkyoku (localized as River City: Tokyo Rumble) with a completely new scenario written by Kishimoto.
The Nekketsu Kōha Kunio-kun series consists of the following titles: