Nanase (七瀬, ななせ?), full name Nanase Haruka (七瀬遥, ななせ はるか?), is a second-year student at Nekketsu High School and Sugata's best friend. He is the vice captain of the Nekketsu High baseball team.
Nanase is a good, understanding person with a calm personality. His special move is the "Double Chop". Unlike Sugata and Kunio, Nanase is not a delinquent, but he respects them and knows how to fight if there is need for it.
A character in Crash 'n The Boys: Street Challenge named Tommy "Dragon" Woo uses his hair and the face of the Dragon Twins. He is a member of the Southside High School team. Dragon replaces Morimoto, while Sting replaces Nanase.

Sting has an entirely new face not at all present in the Japanese version.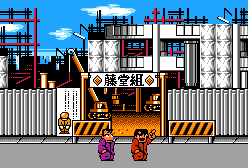 This article or section is a stub.
You can help the Kunio-kun Wiki by expanding it.
Community content is available under
CC-BY-SA
unless otherwise noted.