Momozono (桃園, ももぞの?), full name Momozono Satomi (桃園里美, ももぞの さとみ?), is a sophomore (2nd year) student at Nekketsu High School. She acts as the manager and cheerleader for the Nekketsu team in athletic meet events. She is a childhood friend of Sugata.
Appearances
[
]
Momozono's debut, where she acts as the team's cheerleader and manager.
Momozono returns as the team's cheerleader and manager. She is briefly controlled by the player before each event, where she can take the currently selected character to various shops or use the swing in the area. In this game, Momozono's given name is used instead of her surname.
She appears in Crash 'n the Boys: Street Challenge as well, but her character is unnamed.
Momozono appears in the game as the cheerleader for Nekketsu High School.
Momozono is one of the game's opponents. She also sings a song during the game, "Lover to Friend".
Momozono's first playable appearance, she joins Morisawa, a student of Reihou Academy who was her classmate in middle school to compete in a beach volley ball tournament.
Trivia
[
]
A character resembling Momozono appears in River City Girls as the shopkeeper of Cream Dream in Crosstown.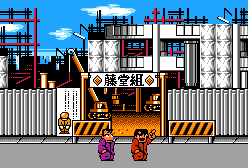 This article or section is a stub.
You can help the Kunio-kun Wiki by expanding it.