Mochizuki (望月, もちづき?), full name Mochizuki Shun (望月駿, もちづき しゅん?), is a boss character in the Kunio-kun franchise and a recurring character in the Downtown Nekketsu series. He is one of the Reihō Shitennō (四天王 "Four Heavenly Kings"), Known for his quickness in combat, he is nicknamed "Motsu the Quick".
He has a younger brother named Mochizuki Tsukasa, who appears in Downtown Nekketsu Baseball Monogatari: Yakyū de Shōbu da! Kunio-kun as a member of the Hattori Academy team. Hayasaka, another student from the academy, is his best friend.
Appearances
[
]
Mochizuki's first appearance is in Downtown Nekketsu Monogatari as one of the game's bosses.
In River City Ransom and Street Gangs, Mochizuki is renamed Turk.
In Crash 'n the Boys: Street Challenge, Mochizuki is renamed Charles Edward "Wheels" Darlington, a member of Team Lincoln High School.
In the localized version, his nickname (かっとびのもつ Kattobi no Motsu) is translated to "Greased Lighting".
Gallery
[
]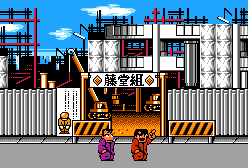 This article or section is a stub.
You can help the Kunio-kun Wiki by expanding it.