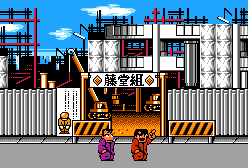 This article or section is a stub.
You can help the Kunio-kun Wiki by expanding it.
This article is about the Downtown Nekketsu series character. For the Nekketsu Kōha Kunio-kun character, see Tōru (Nekketsu Kōha Kunio-kun). For other uses, see Tōru (disambiguation).

Maeda (前田, まえだ Maeda), full name Maeda Tōru (前田亨, まえだ とおる Maeda Tōru) is a third year student of Hanazono High School. He was a former rival of Riki. He first debuted in Downtown Nekketsu Kōshinkyoku: Soreyuke Daiundōkai.
In Downtown Nekketsu Monogatari EX, he had made a promise to Riki and sworn to help him rescue his Mami.
Although his given name is Tōru, Maeda is not the same character with the same name from Nekketsu Kōha Kunio-kun, nor the character that appears in the juvenile prison in Shin Nekketsu Kōha: Kunio-tachi no Banka. Fans have made this connection in some dōjin games however, such as the one based on Nekketsu Kōkō Dodgeball Bu in which Tōru is given Maeda's face.
Localized Versions
[
]
In River City Ransom EX, Maeda was renamed to Rick.