Jurassic World: Dominion Dominates Fandom Wikis - The Loop
Play Sound
Kunio no Oden (くにおのおでん?, "Oden of Kunio") is a puzzle game for the Super Famicom. It was developed and published by Technōs Japan Corp., and released in Japan on May 27, 1994. It was the last Kunio-kun game released on the system.
Plot
[
]
Kunio and other characters from the Kunio-kun series enter an oden (a traditional Japanese dish) preparing contest.
Gameplay
[
]
Kunio no Oden is a drop-pieces puzzle game similar to Tetris, although this time the player must maneuver and align oden ingredients instead of shaped blocks.
The game provides two modes of aligning rules the player can choose from:
Columns based rule: The player must align three identical ingredients either vertically, horizontally or diagonally.
The game provides three difficulty settings: Easy, Normal and Hard, and an option can be selected where the game will highlight the current available places where ingredients can be dropped.
When playing against another opponent, either controlled by the CPU or a second player, by aligning several ingredients at once, the player can perform a chain attack that will result in several chopsticks dropping on the other player's screen, taking away space. The more ingredients the player aligns, the more chopsticks that will drop on the enemy's side.
A special power bar will fill up as the player successfully aligns ingredients and performs combos, which when completely filled, will summon a paste that when placed on an ingredient will make all similar ingredient blocks to disappear.
The game allows the player to choose between three background music themes to listen during gameplay.
Playable characters
[
]
Player 1
[
]
Player 1's playable character. Kunio's voice was provided by Ryō Horikawa.
Player 2 and CPU
[
]
The first boss the player battles against.
The second boss the player battles against.
The third boss the player battles against.
The fourth boss the player battles against.
The fifth boss the player battles against.
The sixth and final boss the player battles against.
Development
[
]
Gallery
[
]
For see the gallery of Kunio no Oden you can see Kunio no Oden/Gallery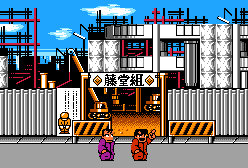 This article or section is a stub.
You can help the Kunio-kun Wiki by expanding it.