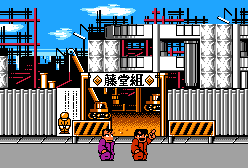 This article or section is a stub.
You can help the Kunio-kun Wiki by expanding it.

Kunio-kun no Dodgeball da yo Zen'in Shūgō​ (くにおくんのドッジボールだよ全員集合!, which roughly translates to "It's Kunio's Dodgeball, Assemble Everyone!") is a dodge ball-based sports game released exclusively for the Super Famicom on August 6, 1993, developed and published by Technōs Japan Corp..
The game renews the gameplay of the original Nekketsu Kōkō Dodgeball Bu from the Famicom, with the addition of new action and evasive moves and various gimmick objects in the court. The game includes power ups, the ability to level up characters, create players and edit teams and the purchase items and Power Shots. Instead of using the characters from the Nekketsu High School Dodge Ball Club, the game uses characters from the Downtown Nekketsu series. Players in Japan tend to refer to the game as SFC Dodge.
The game is directed by Mitsuhiro Yoshida, one of the directors of Downtown Nekketsu Monogatari.
Development
Gameplay
Dodge Ball Tournament
Dodge Ball Versus
Dodge Ball Battle
Team List
Member List
Create Team
Erase Team
Exchange Player
Team Settings
Album View
Save Data
Offense
Defense
Rules
Stats
Power Shots
Stages
Teams
Default Characters
Japan
United Kingdom
India
Iceland
China
Italy
Arab
France
Kenya
Russia
Brazil
Germany
America
Technōs
All Stars
Helmet Brothers
Mysterious Army
Codes, Secrets & Bugs
Trivia
Gallery
Videos
External Links
References
Community content is available under
CC-BY-SA
unless otherwise noted.