Kumada (熊田, くまだ?), full name Kumada Jūzō (熊田重蔵, くまだ じゅうぞう?), is a third year student of Torashima Industries IV High School and a member of his school's Judo club. He first appears in Downtown Nekketsu Kōshinkyoku: Soreyuke Daiundōkai.
Kumada is the eldest son of the owner of a rice grain shop and influenced by his grandfather, aims to become the best judoka. Although he hates bullies, he dislikes weaklings who make no effort to get stronger even more so.
Clifford "Barns" Barnsworth in Crash 'n The Boys Street Challenge.
Ted in River City Ransom EX.
Swole in River City: Tokyo Rumble.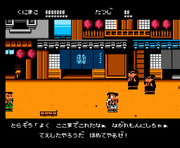 Community content is available under
CC-BY-SA
unless otherwise noted.