Kirishima (霧島, きりしま?), full name Kirishima Yūko (霧島裕子, きりしま ゆうこ?), is a sophomore student of Houryou High School. She first appeared in Downtown Nekketsu Kōshinkyoku: Soreyuke Daiundōkai as the cheerleader and manager for the School Union team.
Kirishima is close friends with the Gōda siblings.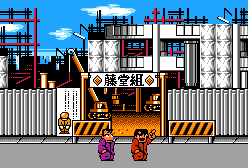 This article or section is a stub.
You can help the Kunio-kun Wiki by expanding it.