Kinoshita (木下, きのした?), full name Kinoshita Tadashi (木下忠, きのした ただし?), is a third year student of Reihō Academy and a member of the "Shitennō" (四天王, してんのう, "Four Heavenly Kings"?).
Kinoshita debuts in this game as a boss. After defeating Sawaguchi and Nishimura, players must backtrack to Hanazono Park 3, where they will find Kinoshita.
In River City Ransom and Street Gangs, Kinoshita is renamed Blade and is a member of the Zombies.

Kinoshita is Nishimura's mark, who has to cooperate with Kunio in order to temporarily take him down multiple times before Kunio dispatches him with a new Ultimate Skill: Laser Shot.
Later on he reappears as one of the Big Four, where he stands up more than once and eventually allows Kunio and Riki to proceed, as he needs to take his men to the hospital.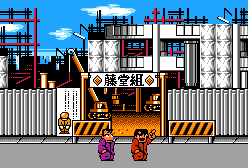 This article or section is a stub.
You can help the Kunio-kun Wiki by expanding it.
Community content is available under
CC-BY-SA
unless otherwise noted.