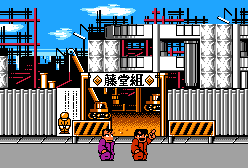 This article or section is a stub.
You can help the Kunio-kun Wiki by expanding it.
Kinoshita (木下, きのした Kinoshita), full name Kinoshita Tadashi (木下忠, きのした ただし Kinoshita Tadashi) is a third year student of Reihō Academy and a member of the "Shitennō" (四天王, してんのう "Four Heavenly Kings").
Appearances
Kinoshita debuts in this game as a boss. After defeating Sawaguchi, players must backtrack to Hanazono Park 3, where they will find Kinoshita.
In River City Ransom and Street Gangs, Kinoshita is renamed Blade and is a member of the Zombies.
Community content is available under
CC-BY-SA
unless otherwise noted.