Character Information


Name:
Katsuyuki Nedachi
Name (kanji/kana):
根立克行 (Nedachi Katsuyuki)
ねだち かつゆき (Nedachi Katsuyuki)
Affiliation(s)
Hakutaka Industrial High School
Year
Unknown
Birthday
April 8
Blood Type
Unknown
Localized Name(s)
N / A
Katsuyuki Nedachi (根立克行 Nedachi Katsuyuki, ねだち かつゆき Nedachi Katsuyuki) is a student at Hakutaka Industrial High School. His first appearance is in Downtown Special: Kunio-kun no Jidaigeki da yo Zen'in Shūgō!, where he plays the role of one of the bosses, Hanshirō. His next appearance is in Downtown Nekketsu Baseball Monogatari: Yakyū de Shōbu da! Kunio-kun as part of his school's baseball team. His likeness is also used in Kunio-kun no Dodgeball da yo Zen'in Shūgō. His name and likeness are taken from a Technōs Japan programmer, just like Nishimura.
Nedachi is an unlockable character in River City Super Sports Challenge ~All Stars Special~.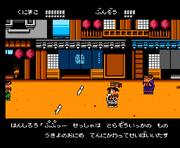 Community content is available under
CC-BY-SA
unless otherwise noted.