Kamijō (上條, かみじょう?), full name Kamijō Tsuneo (上條恒男, かみじょう つねお?), is one of the bosses from Downtown Nekketsu Monogatari.
Gallery
[
]
Trivia
[
]
The face used for Kamijō's artwork is used in Nekketsu Kōkō Dodgeball Bu: PC Bangai Hen for the runt characters when they speak to Kunio in Quest Mode.
In River City: Rival Showdown, Kamijō retains the name Benny from River City Ransom. This is probably intentional, as both he and Yamamoto are said to be from out of town. However, games released by H2 Interactive (~All Stars Special~ and Battle Royal Special) use his original Japanese name.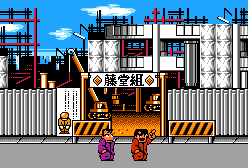 This article or section is a stub.
You can help the Kunio-kun Wiki by expanding it.