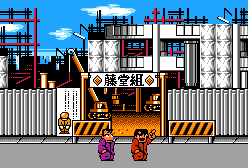 This article or section is a stub.
You can help the Kunio-kun Wiki by expanding it.

Kōnosuke (晃之介, こうのすけ Kōnosuke), full name Tōdō Kōnosuke (藤堂晃之介, とうどう こうのすけ Tōdō Kōnosuke) is the father of Tōdō Mamoru and the President of the Tōdō Group in the Kunio-kun franchise. His first appearance is in Bikkuri Nekketsu Shin Kiroku! Harukanaru Kin Medal. He also appears in Downtown Nekketsu Baseball Monogatari: Yakyū de Shōbu da! Kunio-kun.
In Crash 'n the Boys: Street Challenge, Kōnosuke was changed to Mr. Thornley, Todd's father. Unlike Kōnosuke, who gladly assists his son in arranging the new athletic meet, Mr. Thornley only agrees to help Todd if he guarantees that he will defeat Crash and the Southsiders. He even threatens to banish Todd if he loses.
Community content is available under
CC-BY-SA
unless otherwise noted.