Kōji (こうじ?) is a student of Nekketsu High School. His first appearance took place in the Famicom version of Nekketsu Kōkō Dodgeball Bu. He also appears in Shodai Nekketsu Kōha Kunio-kun, where he can save the player's game. In Downtown Nekketsu Monogatari, his face is instead used for some of the delinquents.
In River City: Tokyo Rumble, he is named Curly.
In River City Ransom, he is face is used in river city ransom delinquent of the turfs around all river city gangs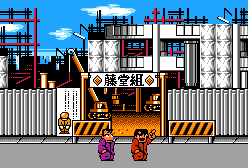 This article or section is a stub.
You can help the Kunio-kun Wiki by expanding it.
Community content is available under
CC-BY-SA
unless otherwise noted.