Himada (火間田, ひまだ?), full name Himada Shō (火間田翔, ひまだ しょう?), is a 3rd year student of Torashima Industries IV High School and a member of its ōendan (応援団, "cheering squad/section") club. His first appearance in the Kunio-kun franchise took place in Downtown Nekketsu Monogatari EX.
Himada can be unlocked in River City Super Sports Challenge ~All Stars Special~.
Localized versions
[
]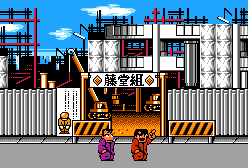 This article or section is a stub.
You can help the Kunio-kun Wiki by expanding it.