Character Information



Fan art by riveroxx310

Name:
Hayato Ichijō
Name (kanji/kana):
一条勇人 (Ichijō Hayato)
いちじょう はやと (Ichijō Hayato)
Affiliation(s)
Nekketsu High School
Year
Freshman
Birthday
January 10
Blood Type
A
Localized Name(s)
Egil (River City: Knights of Justice)
Hayato Ichijō (一条勇人 Ichijō Hayato, いちじょう はやと Ichijou Hayato) is a freshman (1st year student) of Nekketsu High School, who first debuted in Downtown Nekketsu Kōshinkyoku: Soreyuke Daiundōkai. Suffering from asthma since elementary school and bullied through junior high school, he is a relatively weak character. However, he is decent with weapons.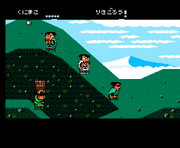 In Downtown Special: Kunio-kun no Jidaigeki da yo Zen'in Shūgō!, Ichijō's face is used for one of the enemy types.
Community content is available under
CC-BY-SA
unless otherwise noted.