Not to be confused with Godai.
Gōda (豪田, ごうだ?), full name Gōda Tsuyoshi (豪田剛, ごうだ つよし?), is the strongest delinquent and a senior student of Houryou High School in the Kunio-kun franchise. He is a recurring character in the Downtown Nekketsu series.
Although he is said to be a fierce fighter, he has a kind heart and a sense of justice which Godai admires. Because of that, the two are good friends. Gōda is a very popular person because of his kindness. He is also very protective of his sister Saori.
The character's first appearance is in Downtown Nekketsu Monogatari, as a tough boss who is guarding the entry gates of Reihō Academy.
In River City Ransom, Gōda is renamed Ivan. He also has this name in River City: Tokyo Rumble and River City Ransom: Underground.
In Crash 'n the Boys: Street Challenge, Gōda is renamed Richard "Sprecks" Spreckles. He is the captain of the Jefferson High School team.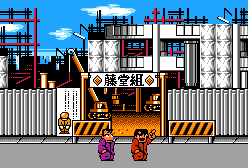 This article or section is a stub.
You can help the Kunio-kun Wiki by expanding it.
Community content is available under
CC-BY-SA
unless otherwise noted.