Not to be confused with Godai.
Gōda (豪田, ごうだ?), full name Gōda Tsuyoshi (豪田剛, ごうだ つよし?), is the strongest delinquent and a senior student of Houryou High School in the Kunio-kun franchise. He is a recurring character in the Downtown Nekketsu series.
Although he is said to be a fierce fighter, he has a kind heart and a sense of justice which Godai admires. Because of that, the two are good friends. Gōda is a very popular person because of his kindness. He is also very protective of his sister Saori.
Appearances
[
]
The character's first appearance is in Downtown Nekketsu Monogatari, as a tough boss who is guarding the entry gates of Reihō Academy.
In River City Ransom, Gōda is renamed Ivan. He also has this name in River City: Tokyo Rumble and River City Ransom: Underground.
Gōda serves as the captain of the School Union team, which he organized so that he could participate. His signature move is the headbutt, like in his first appearance.
Gōda plays the role of Bunzō. He is Kunimasa, and falls ill under mysterious circumstances. Upon his recovery, he can be used as a playable character or as a computer-controlled assistant. He retains his headbutt attack from Downtown Nekketsu Monogatari.
Gōda again serves as the captain of the School Union team.
In Crash 'n the Boys: Street Challenge, Gōda is renamed Richard "Sprecks" Spreckles. He is the captain of the Jefferson High School team.
Other media appearances
[
]
Gallery
[
]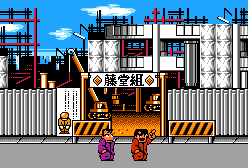 This article or section is a stub.
You can help the Kunio-kun Wiki by expanding it.