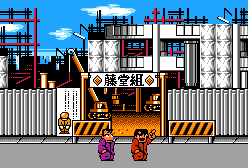 This article or section is a stub.
You can help the Kunio-kun Wiki by expanding it.

Downtown Nekketsu Dodgeball (ダウンタウン熱血どっじぼーる) is a dodgeball-based sports game developed by Miracle Kidz for Wiiware. It will be released on June 18, 2011 in Japan.[1]
This is third Kunio-kun game developed by Miracle Kidz, following River City Dodge Ball All-Stars!! and Downtown SMASH Dodgeball!. However, unlike their previous Dodgeball games, this installment is officially sanctioned by Million.
References
[
]